Contact Address Details:
Silvate Fashion & Beauty Supply Store
Banjul area
Bijilo Highway
next to the AU building, Ksmd
The Gambia
West Africa

Tel no: +220 7256085

Email: aminata@silvate.com



Branches:
1



Opening Hours:
Monday to Saturday: 10am to 7pm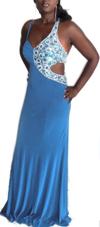 Information:
Silvate is a Gambian owned clothing shop that imports and retails women's high street fashion garments purchased from the high streets of London. The outlet has sales from brands such as River Island, Dorothy Perkins, Debenhams, Selfridges, New Look and more.


Their stock also includes T.M. Lewin men's shirts and tops from the USA.



Types of Women's Outfits, Footwear & Cosmetics:
• Blue evening dress
• Orange Evening Gowns with beads
• Print Maxi Dress
• Blue one shoulder evening dress
• Karen Millen Signature Satin Dress
• Pink lace dress
• Pink or black Bolero
• Karen Millen Signature Satin Dress
• Blue one shoulder evening dress
• Navy blue top with beaded neckline
• Coral and Black Ruffled Chiffon print
• Print Chiffon top
• Ruffled Tiered embroidered top
• Multicolored print dress
• Makari de Suisse Body Beautifying Milk
• Fair and White Whitenizer body lotion
• Skin success fade cream for oily skin
• Vitala Olive oil hair mayonnaise
• Keri body lotion 580ml
• Damatol Medicated hair cream with vitamin A
• Bio Claire
• Bio Oil
• Clere cocoa butter body lotion cream
• Damatol Medicated hair cream
• 18 karat gold plated necklace
• Blue & gold plated bangles
• Imitation pearl earrings
• 14K white gold plated earrings
• 18K gold plated fine round topax bracelet
• Green & Orange Studded High Heeled Shoes
• Silver High Heeled Sandals
• Pink & Black Sandals
• Block color low wedge sandals
• Red & black suede block heel shoes
• Gold glitter block heel
• Purple & wine crossover heel sandals
• Scarves in sheer blue, orange, white or checked

Note: Special sales are occasionally available.



Online Shopping Note:
Silvate's Gambian customers can pay for their fashion items in US Dollars via PayPal using their Discover, MasterCard, Visa, American Express credit cards.