Contact Address Details:
DHK Global Trading
Website: dhkglobal.com

Coastal Road Highway
Opposite Jah Oil Petrol Station
Old Yundum
The Gambia
West Africa

Tel no: +220 7279963
3244151
6613352

Email: dibbakc@yahoo.com







Directions:
From Brusubi Turntable drive up the Banjul Airport road, go past the traffic lights and Paradise Estate. DHK Global Trading business is almost opposite Jah Oil station.



Opening Hours:
Monday to Saturday: 9am to 5pm


Information:
DHK Global Trading was founded in The Gambia in 2010. The firm carries out water borehole drilling services, and offers sales and installations of imported solar panels, solar water pumps, agricultural equipment and more.






Products & Services:
• Borehole water drilling & after-sales servicing



• Solar panels, solar water pumps



• Solar power generators



• Solar fridges, solar freezers



• Solar / car batteries



• Solar and electricity rechargeable fans



• Water tanks



• Tractors



• Power tillers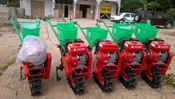 • Seeding machines



• Fertilizers



• Graders



• CCTV camera installation



• Drainage / dripping systems
and other products.






























(1) Borehole Drilling
(2) Water pump
(3) solar Panel
(4) Agricultural Equipment