Contact Address Details:
Africell (Gambia) Company Ltd




Website: www.africell.gm





Banjul area Head Office
43 Kairaba Avenue
Serrekunda
P.O. Box 2140, Banjul
The Gambia, West Africa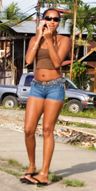 Tel no: +220 7400000

Fax: 4376044

Email: info@africell.gm

Chief Executive Officer (CEO):
Alieu Badara Mbye

Scratch & EVC Sales Manager:
Tel no: +220 7811111

Marketing Manager
Tel: +220 7750047

Customer Care Dial 111
3G Customer Care Dial 113
Buy 3G Bundles Dial *120#
Balance inquiry dial *133#
Credit update dial 134



Customer care centre:
Monday to Thursday: 8am – 6pm
Friday: 8am – 2pm
Saturday: 8am – 12pm

Their Customer service lines are open 24 hours a day, 7 days a week:
Dial 111 from your mobile or 7750111 from your landline.



Services:
The Africell Prepaid Service is the most popular in The Gambia and comes in denominations of as low as D25 for a scratch card and as low as D5 for electronic Vouchers. Prepaid users can access the widest coverage in the Gambia for GSM and 3G with their Africell SIM.

The Post Paid Service is a monthly payment and offers a wider array of services. Mobile phone users can also send and receive faxes and data by connecting their handsets to a PC. Post Paid customers can also make international roaming calls, conference calling and itemized billing.




Information:
Since its founding as a GSM mobile phone operator Africell's

slogan has been "Bringing People Closer". To achieve this end they have engaged in a policy of continuous capital reinvestment and aggressive mobile phone network expansion in The Gambia.

By offering the best tariffs, services and coverage Africell has witnessed exceptional growth all over The Gambia within the last few years and had over 850,000 active cellular phone subscribers at the end of 2012. Africell is also present in Congo DRC since 2012 and is currently the number one operator in Sierra Leone with more than 1,500,000 subscribers.

The Africell

parent holding company, Lintel Holding, is targeting to expand throughout the African continent and today owns a majority stake in other GSM networks in Sierra Leone & Congo DRC, also operating under the same brand name.

Expansion plans are underway to spread out to other African countries, focusing mainly on the West African region. They opened their first branch on Kairaba Avenue which is a multi-storey building on the junction of the road leading to Latrikunda.




Nokia

Motorola