Contact Address Details:
Gamsolar Gambia Limited


Banjul area Head Office
Website: www.gam-solar.com



Manjai BB Highway, Kotu East
Kanifing Municipality, Ksmd
The Gambia , West Africa



Tel no: +220 4460189
Mob: 9856320 / 7173391
Fax: 4460197



Email: gamsolar@gmail.com


Postal address:
P.O. Box 3493
Serrekunda
The Gambia


---



Images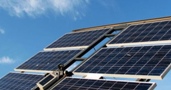 Information:

Gam-Solar Energy & Engineering Co. Ltd. is one of the foremost renewable energy companies located in The Gambia. The solar power company was established in 1998 and has been focused on extending the general public's usage of the sun's energy through its marketing of the latest technologies in energy efficiency.

The company's activities are in four different areas: marketing Photo Voltaic (PV) solar electricity systems, solar water pumping, solar water heating systems (SWH) and energy efficiency compact fluorescent light bulbs (CFLs).

They provide specially made system design and installation packages for electrical solar energy and potable supplies to private homes, medical centres, agricultural projects, commercial buildings and other entities.



Development Partnership:
In alliance with government and NGOs the Gamsolar Company has up to the middle of 2012 fitted around 85 solar water pumping units in village stations around the country. This has made available drinkable water to nearly a quarter of a million Gambian villagers.



Gam-Solar Retail & Wholesale Products & Services List:
• LED & ESL lights
• Inverters & battery bank standby systems
• Solar water pumps & off-grid irrigation systems
• Maintenance & Repairs of Solar modules & systems
• Photo Voltaic (PV) solar electricity Systems supplies & installations
• Solar hot water heating systems on roofs or frames