Car Rental Companies


There are a few car rental companies operating in Gambia today as compared to virtually non a few years ago. AB Gambia Car Rental can be found located at the front of the Senegambia Hotel. The other two are Avis at the Kairaba Hotel and Hertz at Banjul Airport.

They have saloons as well as 4 by 4 wheel drives with air-conditioning. The other car rental company is Avis located at Jeshwang near Serrekunda. There are a few other firms to be found at the Kololi area as well as the airport.

You have to have either an International Driving Licence or a UK driver's licence which can be used for short stays. Hire rates start at about

£20 per day. Your hotel receptionist can best advise you where to look for the most convenient car hire firm. TIP: Driving is on the right-side of the road.



Bicycle Rentals
This is the most eco-friendly mode of transport for Gambia. It gives you great flexibility to go to areas that cars cannot reach for example narrow dirt roads. Most of the hotel resort areas have cycles for hire on a whole day basis for less than about £7 per day. Before setting off make sure the lights are working properly, tires are fully inflated and when driving at night always wear something fluorescent as most rural roads are unlit. You must take great care when riding on the main roads and it is perhaps safer to ride on the 'footpath' when you are cycling in rural areas. Read on...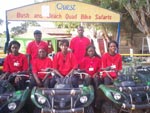 Quad Bikes
The other increasingly popular and leisurely new way of getting around are by Quad Bike which can be used on the roads and is great for the beach flats. Read on...





Jeep Safari Rentals


These jeeps are very popular with tourists and can be found for hire outside the Senegambia strip and the other busy coastal hotel resorts. They are coloured green and usually have an open roof and they are regulated by the Gambia Tourism Authority.

They are a good way to get great views of the scenery while either driving deep in the bush or down south to the secluded beaches of Kartong and Sanyang. Such jeeps come with a driver.



Ferry Crossings
There are 8 ferry crossing points along the

Gambia River at many small terminals as well as the main one at the Banjul Ferry Terminal. The cost of crossing from Banjul to Barra is less than 10 pence. Another alternative is to hire a boat from one of the many fishing businesses located at Denton Bridge, near Banjul, or hire an African Pirogue from any local fishermen but please bear in mind such people don't usually carry life jackets or 2 way radios on their boats.



Microlight Flights
A fantastic way to enjoy aerial scenery of the Gambia's creeks, mangroves and national parks. There are a few landing strips in the country so you are able to make stopovers in certain areas of tourist interest. These light aircraft flights are operated by Maddox Microlights.

To contact MADOX:
Club House:+(220) 4374259
Bookings: +(220) 4462100
EMail:cobra@gamtel.gm