Contact Office Details:
MP Trading Co. Ltd.


Banjul area
Website: www.mptradingcompany.com



Westfield Junction Branch
1 Kairaba Avenue
PO Box 2900 Serrekunda
Ksmd



Tel no: +220 4395800


4398800, 7769001

Fax:

4395900

Email: mptradingcompany@hotmail.com



Other Branches:
17 Sayerr Jobe Avenue
Serrekunda, Banjul area
Tel: 4396800

MP Trading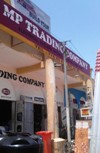 98 Kairaba Avenue
Fajara
Tel: 4378130
4376500

100 Kairaba Avenue
Tel: 4392900, 4390100

Kanifing North
(Warehouse Depot)
Tel: 4375375

Kanifing Industrial Estate
Mamadi Manjang Highway
Old Jeshwang
Tel: 776 8007
880 6200



Information:
MP Trading Gambia Company Limited is an Indian owned retailer of consumer electrical appliance as well as a distributor of electrical components and products to the building construction trade.



Product Range:
Batteries, Ceiling Fans, Computers, CD's & DVD Players, Electric Cables, Fridges (gas powered & electric), Gas Cookers, Generators, Inverters, Kitchen appliances, Laptops, Loudspeakers, Mobile Phones, Printers, Filament Bulbs, Rice Cookers, Solar Panels, Tapes, TFT TV Monitors, Watches, Air Conditioners and more.






Brand Names:
MP Trading Gambia is also a retailer of the following household names:

Sony, Kenwood, Nikai, Maxell, Lister Petter, Nokia, JVC, Ariston, Briggs and Stratton, brother, canon, Coleman, Hitachi, Honda, HP, IBM, Kohler, Konica Minolta, Sharp, Mitsubishi, Panasonic, Philips, Philex, Pramac, Sagem, Ricoh, NEC, Toshiba, Samsung, Belkin, Morphy Richards, and Moulinex.