Contact Address Details:
Swe-Gam Gambia Company Limited
Banjul area Head Office
21 East Street
Kanifing Industrial Estate
Kanifing South
The Gambia, West Africa

Tel no: +220 4373829
4372464
Fax: +220 4372464

Email: swegam@gamtel.gm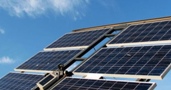 Company Information:
Swegam Limited sells submersible water pumps from Afripump (no spare parts needed), Booster Pumps, solar water installations, forestry equipment, tools, wheelbarrows, bi-metal saw blades & technical accessories.

They are the sole import agents in the Gambia, Guinea-Bissau, Sierra-Leone for Scania, Sandvik, Shurflo, Husqvarna, Boode, Stanley Hand Tools, Hitachi Power Tools, Euronord WTM, KWH Pipe, Aquadrip, Robota, Shurflo and Ahlsell.

They are the main distributor of Blue Hand Pumps.