Contact Address:
All In One Enterprise
40 Kairaba Avenue
Gambissara White House Bldg.
Serrekunda
Banjul area Head Office
The Gambia, West Africa



Tel no: +220 4399983


6793371


3399983


Fax: 4399983



Email: allinonemarketer@yahoo.com


allinoneceo@yahoo.com




Information:
All In One Enterprise Gambia Company Limited is a distributor of solar energy related products such as solar hot water heaters, inverters, PV solar panels, regulators and uninterrupted power supply back up systems.

The other items in their photovoltaic product range are deep cycle batteries, small scale practical modular systems, roof racking, tracking mounts, current monitors, meters, solar water pumps and components. They import their units from the main manufacturers which includes monocrystalline and polycrystalline panels from Evergreen, Sharp, BP Solar, Kyocera and Trina.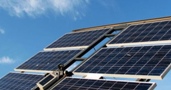 They also offer a general maintenance service contract to ensure your equipments is always in good working order.

Finally, as solar products wholesale importers in Gambia, they also carry out procurement of various items for their clients for delivery directly to their work or home address.



All In One Enterprise Services:
• Main Distributor for Solar Panels in Gambia

• Wholesale price for solar panels available

• Solar pumps for water wells for agricultural, irrigation & remote homesite

• Installations on commercial & private domestic properties

• Off-grid renewable energy accessories



Directions:
Go east until just after the Pipeline Mosque and you will find the solar company on your right.



Opening Hours:
Monday to Thursday: 9am to 5pm

Friday: 9am to 12.30pm