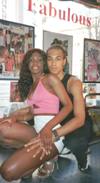 Contact Address:
Fabulous Wellness
Spa & Beauty Studio
Senegambia Strip
Kololi, Banjul area
The Gambia, West Africa

Tel no: 4465966

Email




Information:


The Fabulous Wellness Spa and Beauty Studio is in Kololi on the Senegambia strip. The company who specialise in hair extensions, massages and make up has been operating in the Gambia since 2007.

They originate from Mannheim City, Germany and have over 20 years of experience.

Specialist in afro, European and mixed textured hair.


| | |
| --- | --- |
| • | All faces of nails, airbrushing, nail-piercing, nail-art, American and French manicures & pedicures. |
| | |
| • | Hair extensions |
| | |
| • | Silky-braids |
| | |
| • | Interlocking and twist hair weaves |
| | |
| • | 100% Invisible Micro |
| | |
| • | Dreadlocks |
| | |
| • | Massage |
| | |
| • | Facial |
| | |
| • | Waxing hair removal |
| | |
| • | Permanent make-up and tattoos |
| | |
| • | Air brushing |
| | |
| • | Hawaii spiritual and fitness retreat |
| | |
| • | Japanese massages |
| | |

Opening hours:
Mon - Fri 10 am to 7.30 pm
Sat 10 am to 6 pm