Flevo Trading Gambia Company Ltd


Information:

A specialist supplier of alternative energy systems for the supply of free electricity & water pumps which was established in 1998.



Services:
Borehole water drilling using the percussion drilling technique.



Photovoltaic modules (solar panels) installations for standby power or a standalone system.

Small wind turbines to generate electricity for residential homes & commercial use.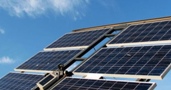 ---

Home Disclaimer Privacy Policy

Copyright © 2009
Access Gambia All Rights Reserved.

Images from flickr