Independent Electoral Commission (IEC)


Contact Address:
Independent Electoral
Commission





Banjul area Headquarters
7 Kairaba Avenue
(Latrikunda)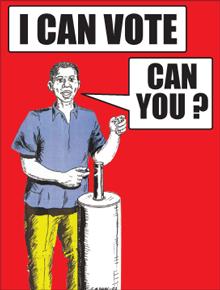 Serrekunda, Kanifing Municipality
Postal Address:
P.O. Box 793, Banjul
The Gambia, West Africa



Tel no: 4373804
Fax: 4373803



Email: info@iec.gm




Information:
The IEC is the Election Management Body of The Gambia. It came into being in 1997. It conducts all elections and referenda in the Gambia.



Structure:
The Commission is composed of persons appointed in accordance with Section 42 of the Constitution, and; the Staff of the IEC who are appointed by the Commission.

The former directs the policies of the IEC and the latter implements the adopted policies.

The Staff structure at Headquarters is set into five distinct functional Divisions with each Division headed by a Director.



Banjul Regional Office:
Banjul City Council
Telephone: 4223799
Fax: 4223798

Government
Agencies & Parastatals

GOOGLE

---

Home Disclaimer Privacy Policy

Copyright © 2009
Access Gambia All Rights Reserved.