Mama Africa
(Women's Museum & Art Centre)

Contact Address:
Mama Africa
Tanji Village
Kombo South
The Gambia, West Africa



Tel no: +220 745 0730 Isha
Tel no: +220 733 3780 Bernd



Skype: berndax1



Information:

"Mama Africa" Women's Museum & Art Centre was opened in February 2010. The centre was founded and is managed by the celebrated Gambian artist Mrs. Isha Fofana who returned home after spending nearly 10 years operating her German gallery as well as making overseas displays. Her artwork is primarily done on large canvasses using vivid colours and she has painted and had exhibitions in Asia as well as Europe.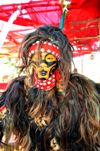 The art gallery displays sculptures, paintings, and installations from artists working in the West Africa sub-region. It is part of a loose, worldwide network of Women's Museums, initiatives and museums dedicated to women.



In September 2013 the Museum found a new home between Tanji Village Museum and the fishing village. It is a two storey building complex.





Opening Hours:
Monday to Saturday: 10am to 6pm


---

Home Disclaimer Privacy Policy

Copyright © 2009
Access Gambia All Rights Reserved.

Images from flickr