Review: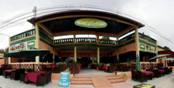 The 400 seater Olivia Bar and Restaurant in Kololi is truly a 5 star diner located next to the Kairaba Hotel. It first opened its doors in late 2013 and is a family run restaurant which has been given top marks by many visiting tourists and locals alike.








• Free WiFi hotspot
• Satellite TV with sports such as live football matches
• Immaculate surroundings with style
• A varied menu
• Seats up to 400 people
• Air conditioned
• Children's play area
• Spacious roof top terrace
• Evening entertainment
• Caters for special events such as birthdays
• Shisha (water pipe)

If you enter during the day, just before lunch, you are presented with rows of immaculate, military precision placed glass topped tables, clean, well polished floors you could eat your dinner off of, a huge front dining area covered by a massive pillar supported roof to provide much needed shade during hot, blazing afternoons. The decor is modern with with touches of African artwork spread along the walls. If you fancy eating close to the street there are a few tables to your left and right accompanied by large parasols.










The inside is more or less a continuation of the outside except for the well appointed, well stocked drinks bar to your left, air conditioning units throughout the ground floor and a children's mini play area double to your right.

The former manager, Mariam, hails from Olivia's well established sister restaurant called the Ali Baba Garden Restaurant which is run by her father. This is why you can be assured of professional service as a result of years of experience running a very busy establishment, particularly during the holiday season.



The Food (Lunch / Dinner):

The professional kitchen produces numerous, well prepared and presented international dishes. For starters try their scrumptious Mozzarella Sticks, Tomato Tart, Chicken Wings or the Shrimps Cocktail. Among their salads are Tuna, Caesar and Nicoise Salad.

If you fancy a little more before your main course try their Lebanese Hummus, Chili Potato, Baba Ghanouj, Kebab or succulent stuffed Vine Leaves.

Aside from some vegetarian dishes they also serve Chicken Fajita, Cordon Blue, Deep Fried Chicken Kiev Supreme, Chinese Chicken, pizzas, pasta, seafood as well as some local Gambian dishes three of which are well tried favourites with tourists. These are are Beef Domoda (Peanut Butter Stew), Gambian Fish Benachin (Jollof Rice) and Chicken Yassa.

Manager: Mr. Zaytoun



Directions:
Olivia Bar and Restaurant is on the Senegambia Strip, next door to the Kairaba Beach Hotel.



Menu Overview:
International cuisine, Lebanese, Gambian dishes. Take out food available.



Opening Hours:
Monday to Thursday: 12 till late
Friday & Saturday: 12 till late