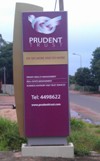 Contact Address:
Prudent Trust Gambia Co Ltd
Banjul area head office
www.prudenttrust.com
78 Atlantic Rd. (Blvd.)
Fajara
Kanifing Municipality, Kmc
The Gambia, West Africa

Tel no: +220 4498622


Fax: 4498633



Email: graham@prudenttrust.com

Skype: prudent.trust




Information:
Founded in 2012 the Prudent Trust Gambia Company Ltd.

is a private, strategic consultancy and investment company which is focused on providing business advice, trust services, personal wealth management, realty management and acquisitions. Their team combines over three decades of experience in the fields of economics, legal advice, real estate financial investment, and management.



Their consultancy services are aimed at corporate institutions, strong net worth private individuals, families and small and medium-sized enterprise business people through customized and integrated financial package solutions to international financial plans for their clients.



Prudent Trust Consultancy Services:
• Real Estate Management:-
Among these services are corporate property management, leasing, residential and commercial rentals, building sales, building permits, architectural plans, bill of quantities, utility installation, property taxes, levies and rates.

• Business Advisory & Trust Services:-
Among these functions are consultancy services for corporate financing, business planning, market research, recruitment and outsourcing.






Prudent also acts as an Escrow agent. This means an agreement is arrived at by which an asset is placed with a custodian (e.g. cash in bank) under the control of a disinterested 3rd party i.e. the escrow agent awaiting the fulfilment of a contractual condition. Upon satisfaction of the condition the agent hands over the asset to the named contractual party.

Business & Financial Management:-
Under this service they provide bank reconciliation statements, computerized book keeping records, software installation and training, financial projections, budgeting, contract negotiations and the production of staff manuals.

Advisory -
First meeting and assessment of client's needs;
Strategy plan;
Business software installation and training;
Continuous support schemes tailored to their clienteles requirements.

Marketing -
Here the client can have their marketing strategy enhanced and executed as well as the development of new promotional and marketing campaigns throughout The Gambia. They also carry out market research to check the commercial viability of products and services prior to their launch. These can take the form of engaging focus groups, local surveys, mystery consumer shopping and similar techniques.

• Conference planning & meetings:-
These events can be organised in hotels, halls & other venues.

• Private Wealth Management:-
This service is by referral only and is offered in partnership with some of the top financial institutions in order to invest, develop and grow personal private equity while minimizing risk.





Legal Advisors:
• Lord's Chambers



Real Estate Service Providers:
• Property Rental & Sales
Property Partnership Gambia Ltd.

• Building Supervision
MasterPlan
Horizon Technical Services

• Property Maintenance, Servicing and Interior Deco
Assemblage

• Building Contractors
Horizon Technical Services
CSE
MasterPlan

• Building Construction Project Management
8Sigma

• Property Surveyor & Valuer
Sphinx Associates

• Building Architects
Horizon Technical Services
MasterPlan





Fund Managers:
• Ecobank
• Standard Chartered Bank
• GTBank Trust Bank
• Access Bank Banjul




Directions:
From the African Village go south until just after the Bakau Army Camp and it's on your right hand side.



Opening Hours:
Monday to Thursday: 9am - 5pm
Friday: 9am - 12.30pm