Gambia Holiday Rentals
Kololi
2 Bedroom Holiday Bungalow For Rent
Kololi, Gambia
CONTACT OWNER

PHOTOS





Location: Kololi (close to Senegambia)

Accommodation Type: Self-catering bungalow

Bedrooms: 2 with 1 shared, 1 shower/toilet

Sleeps: 4

Letting Price: € 135 per week

Review of Holiday Lettings:
This is a compact, self-contained house with self-catering facilities in their kitchen, a good sized living room with double beds in the two rooms. The property is situated in a quiet residential area and has a decent sized garden for relaxation, enjoying a drink & sunbathing. The whole property is ideally suitable for families with children of all ages.

If you are new to The Gambia they can arrange for guided excursions to various places of interest such as the Banjul capital, Abuko Nature Reserve & other places of interest.

Facilities & Services:
• Living room with chairs
• 1 bathroom with shower, sink & toilet
• Running hot water on tap
• Kitchen with fridge, gas cooker, crockery
• Ceiling fans
• 24 hour security
• Room cleaning
• Dining table
• Wardrobes & dressing table
• Mosquito screen on windows
• Towels & sheets provided

Conditions:
• € deposit payable in advance to confirm your reservation.

Note:
Room rates are for the high winter season & are subject to change without notice.



Photos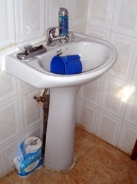 Contact Address & Room Bookings:
Two Bedroom holiday apartment
Kololi Village
(10 minutes walk to Senegambia Strip)
Kombo Saint Mary District
Greater Banjul area
The Gambia
West Africa

Tel no: +220 9927 469
+31 528241977
+31 651556126 Paul

Email: roos_annemarie@hotmail.com






Gambia Holiday Rentals
Kololi

---

Home | Disclaimer | Privacy Policy

Copyright © 2009
AccessGambia.com
All Rights Reserved.
*NOTE: Before making any accommodation booking, contact the bona fide owner(s) first to clarify all details & rates. N.B. prices are subject to change without notice.
---