Gambia Holiday Rentals
Brufut
Adebayo Bungalow For Holiday Lettings
Brufut Heights
CONTACT OWNER

PHOTOS



Location: Brufut Heights, near to the beach

Accommodation Type: Self-catering house

Bedrooms: 3 double bedrooms

Sleeps: Up to 8 people

Letting Price:


£25 / €35 a day high season for single / couple
£20 / €25 a day low season for single / couple
*£5 / € 7.50 a day for extra guest



Review of Holiday Lettings:
Adebayo Bungalow sits on large landscaped gardens, 10 minutes walk from the Atlantic Ocean and few minutes drive from the Gambia Coral Beach Hotel & Spa. It is finished by African craftsmen in deep-toned local mahogany, old style Venetian wooden windows, carved furniture and cool tiles.

Located in a relatively safe residential area - you will have the truly African experience away from the hustle and bustle of Kololi and Kotu - the main tourist areas

Facilities & Services:
• 3 bedrooms, master en-suite
• 2 bathrooms
• Living room with dining area
• Kitchen fridge/freezer, gas stove, microwave
• Reserve 2,000 litre water tank
• Security watchman on site 24/7
• Outdoor back patio with seating
• Garden area with footpaths & back porch
• Barbecue made of red brick
• Optional extras are room cleaning services, linens, towels, electricity

Note:
Rates may change with notice.



Photos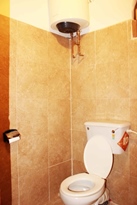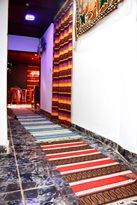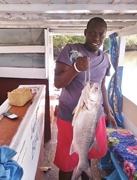 Contact Address & Room Bookings:
Adebayo Bungalow for vacation lettings
Brufut Heights Village
Off the Kombo Coastal Road
Greater Banjul area, Ksmd
The Gambia
West Africa

Tel no: +44 7958970221 (Greg, UK)
+220 7825360

Email: gdele@yahoo.com






Gambia Holiday Rentals


Brufut
---

Home | Disclaimer | Privacy Policy

Copyright © 2009
AccessGambia.com
All Rights Reserved.
*NOTE: Before making any accommodation booking, contact the bona fide owner(s) first to clarify all details & rates. N.B. prices are subject to change without notice.
---