Gambia Holiday Rentals
Kololi
Senegambia
The Oasis Apartment Complex
Kololi, Gambia
CONTACT OWNER

PHOTOS





Location: Kololi, Senegambia highy.

Accommodation Type: Self-catering

Bedrooms: 1, 2, 3 & 4

Sleeps: 1 to 4 guests

Letting Price: D2,000 - D4,000 per day

Review of Holiday Lettings:
The building has 42 self-catering, luxury condos which come in 5 sizes such as the one bedroom suites up to the larger 4 bedroom suites.




The largest suite, which is suitable for families, offers 168 sq. metres of generous floor space with an impressive living room and veranda with seating, table and rivals many of of the 5 star hotels.

All condominium units are en-suite and are furnished to a high standard of contemporary design.

The Oasis Apartment Complex is owned by the Willmon Company Limited of The Gambia and is located very near restaurants, bars, mini-markets and the entertainment scene in Kololi's Senegambia Strip. In fact some of these amenities are on the ground floor of the building such as a restaurant and travel agency.

The beach itself is just a 10 minutes walk away.

Facilities & Services:
• Wardrobes & shelves
• Dining room table
• Change of fresh linens & towels
• Living area & sofas
• En-suite bathroom, sink, WC
• Kitchen or kitchenette in most apartments
• Private balcony or veranda
• Flat screen satellite TV with 15 channels
• Free room cleaning
• Direct phone line
• Free internet Wi-Fi hotspot

Further Details:
• Elevator
• 24 hour private security guards
• Reception lobby & seating
• Standby generator
• Swimming pool & sunchairs
• Bar serving food & drinks
• Car parking
• Garden area
• Bank

Conditions:
• Deposit payable to confirm room reservation.

Note:
Room rates are for the high winter season & are subject to change without notice. Buying of a long term lease of a property is available.



Photos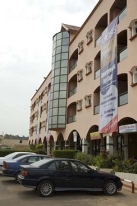 Contact Address & Room Bookings:
The Oasis Holiday Apartments
Kololi, Senegambia
Bertil Harding Highy
PO Box 02 Banjul
The Gambia, West Africa

Tel no: 446 6627
446 6628
446 6629
Fax: 437 4616
437 4838

Email: info@oasis.gm

Website



Gambia Holiday Rentals

Kololi
Senegambia

---

Home | Disclaimer | Privacy Policy

Copyright © 2009
AccessGambia.com
All Rights Reserved.
*NOTE: Before making any accommodation booking, contact the bona fide owner(s) first to clarify all details & rates. N.B. prices are subject to change without notice.
---