Gambia Land For Sale
---
Fenced Land For Sale in Gunjur
SOLD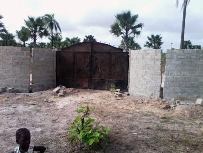 • Property Location: Gunjur, Kombo South
West Coast Region



• Plot Size: 50 x 62m
• Plot Size: 100m x 62m



• Sale Price: D600,000 (1 plot)
• Sale Price: D1,000,000 (2 plots combined)


Description:
This is a parcel of land not far from Paradise beach with a fence and gate.

There are 2 adjacent plots - each one measures 50m x 62m. Both can be brought jointly or separately.





---


Note:
Plot price offers are subject to change without notice. Always confirm details with the property title holder or estate agents concerned.


Contact Land Owner / Agent Address Details:


SOLD






Land For Sale
Top of Page

---
Home | Disclaimer | Privacy Policy
Copyright © 2009 Access Gambia
All Rights Reserved

Please Note: Always use the services of a Banjul based lawyer before making any real estate decisions.
---