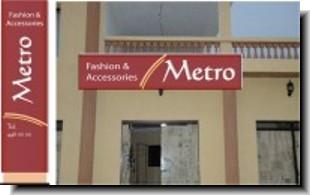 Contact Address Details:



Metro Fashion
& Accessories Gambia Ltd.
Banjul area shop
152 Kairaba Avenue
Fajara Booster Station
The Gambia, West Africa
Tel no: +220 446 0000
717 0014
Email: afsaidy@gmail.com







Images



Directions:
Near where Kairaba Avenue meets the Atlantic Boulevard.






Opening Hours:
Monday to Saturday: 09:00 to 17:00




Information:
Metro Fashion and Accessories Gambia Limited is a recently built retail outlet that orders and distributes well known clothing designer labels from the US & United Kingdom & EU. They offer sales of good standard, recognizable brand names that you would expect for men, women or kids. As you approach the beige painted shop you are immediately struck by the sheer quality of the building itself! Tall, light brown, imposing pillars welcome you to the main entrance. As you enter through the swinging doors there are neat straight rows of clothes offering an eclectic mix of fashion choices for nearly all ages.

The cashier's desk is conveniently positioned in the centre of the store giving them a 360 degree view of the entire floor. There are also plenty of seating areas and air conditioning to cool you during the stifling summers .

Metro stock a dazzling selection of desirable clothing garments such as women's skirts and blouses, men's business suits, sandals, cuff links, woven silk ties from Italy and fragrances like One Million Cologne by the house of Paco Rabanne.

You can try on clothing from Warehouse, Rouge, Moss, French Connection, Calvin Klein, Donna Karan, Curtis, Pierre Cardin, Tommy Hilfiger, and the New Look Group. Other names includes Hawes, Pringle, T.M. Lewis long-sleeve shirts, Dehavilland, Henley & Knight, Jotto and Savoy Tailor's Guild.

* If you are coming by car then note that there is plenty of car parking space available at the front of the fashion shop.

* A new stock items arrive at the Banjul port at the end of each month.