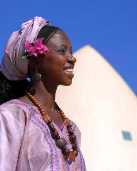 Overview of Tourism:
To travel to Gambia, in West Africa, is just 6 hours flight from most EU airports and because the country operates on GMT tourists can avoid suffering from jetlag. The destination offers a cheaper alternative than the Caribbean destinations and there are 48km of unspoilt white sandy beaches which have yet to experience any significant tourist development.

The Gambia has been a popular holiday destination since the mid 1960s and enjoys a sub-tropical climate with distinct dry and rainy
seasons. Most tourists come during the winter months between October to February with a steady tailing off of visitors from March to May. However the cheapest time to go is during the rainy season when many of the most popular beaches are relatively empty however the heat & humidity in August and September can be stifling.



There are a wide choice of types of accommodation available to travellers ranging from luxury 5 star hotels & lodges to budget accommodation whether it be 1 to 2 star hotels or privately run guest houses and lodges. Most of the accommodations are located on or near the coastal resorts' fringes in particular Kololi and Kotu.


The Gambia offers lots of things to do while on holiday. There are organised excursions to the capital of Banjul, Camel rides at Tanji, dolphin spotting at Jinack Island, visits to Abuko Reserve and other nature reserves, lots of restaurants to eat in & drink, visiting nightclubs, birdwatching, fishing, quadbiking and more.

Tourism offers many benefits to the catering sector and other tourism related services in the urban areas such as small local tour operators, beach juice sellers and the craft markets. The average tourist stays for about 14 days and spends an average of around US$20 on each of those days. The stock of beds is around 6,000 and much of it leaves a lot to be desired though the efforts have been made to improve the situation. However, there are many descent accommodations along the coastal strip some of which is of a very high standard.



It is the aim of the tourism authorities to encourage an all-year-round tourism industry in the medium term.

Over the past decade there has been an increasing concern about tourism's less desirable effects in Gambia. As a result new organisations & lodges have emerged who are committed to reducing tourist impacts on the local environment. They encouraging visitors to be aware of their effects on local people and to act in a more responsible manner.

Facts & Figures Information:


300 tourists visited Gambia in 1965. This figure went up to 2,500 visitors in the year 1970. Since then this number has increased to over 100,000 per year. More ...

A Little History:
The first set of 'tourists' came in the early 1960s on cruise ships which began to dock at the port of Banjul allowing for sightseeing in the capital. A Swede named Bertil Harding changed all that in 1965. More...

See also

Websites