Contact Address Details:
AGS Frasers Gambia Limited
Banjul head office
Website: www.agsmovers.com
59 Mamadi Manjang Highway
New Jeshwang, Kanifing
The Gambia, West Africa
Tel no: +220 4372 683


Fax: +220 4372 524
Email: manager-gambia@agsmovers.com

London Branch:
AGS Frasers
43-49 Minerva Road Park Royal
London NW10 6HJ, UK
Tel: +44 208 961 7595


Fax: +44 208 961 7653




Information:
AGS is an international freight removals, warehouse storage and relocations company engaged in domestic as well as worldwide door-to-door removals of household items. It is the largest removal firm in Africa which has been in business for over 33 years and operates in 37 countries on the continent.

In West Africa AGS has sea and air cargo branches in Gambia, Ghana, Nigeria, Sierra Leone, Liberia, Ivory Coast, Togo, Senegal, Benin, Cape Verde, Guinea Bissau, Niger and Burkina Faso.

In Europe the firm has 38 branches and subsidiaries covering West and Eastern Europe. Among the countries are removals from UK, Belgium, France, Portugal and Spain.



Services: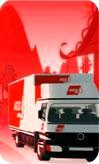 Professional advice, check list, specialised packing materials in crates, safe storage facilities, shipping of cars and other auto vehicles, All Risk Insurance and an after-sales service.

AGS Frasers also has an on-line tracking system so you can check on the location of your personal household belongings through you unique tracking number.